Who we are
Friday Trampoline is an international curatorial and creative collective, based between London, Paris and Sydney.
Our art programmes are discovery lead – we specialise in finding early and mid career artists and spring boarding them to public consciousness.
We often work in partnerships with galleries, art fairs and educational organisations with extensive databases that help amplify the brands we work with.
We are proactive generators of opportunities for artists and organisations, motivated by change and creating an equal, inclusive and diverse art scene.
Programming
Content creation
Event delivery
Residencies
Private views
Studio visits
Competitions
Brand extension
Brand identity
Brand narrative
Naming
Visual identity
Brand awareness
PR strategic planning
Education
Mentorship
Artist talks
Workshop facilitation
Philanthropic outreach
Networking
Partnerships
Inter-organisational partnerships
Cross programming
Audience sharing
Sponsorship
Sales
Primary and secondary
sales and acquisitions
Consignment agreements
Contracting
Condition checking
Archival reports
Installation + Transport
International Women's Day
MARY'S NEWTOWN, MARCH 8, 2023
Fundraiser for Women and Girls Emergency Centre at Mary's Newtown.
Focusing on women founders in the arts, Ali interviewed Ashleigh Jones, founder of Passage Gallery, an installation dedicated exhibition space. Ashleigh shared experiences ranging from identifying a gap in the market for early to mid career installation artists, developing her creative vision for the program and securing public funding.
In Australia a woman is murdered every week by her current or former partner. WAGEC creates safe spaces for women and children who have experienced homelessness and domestic violence. They support women on their own journeys to financial independence, giving kids what they need to thrive, and offer help in the recovery from trauma. WAGEC accommodates 200 women and children nightly.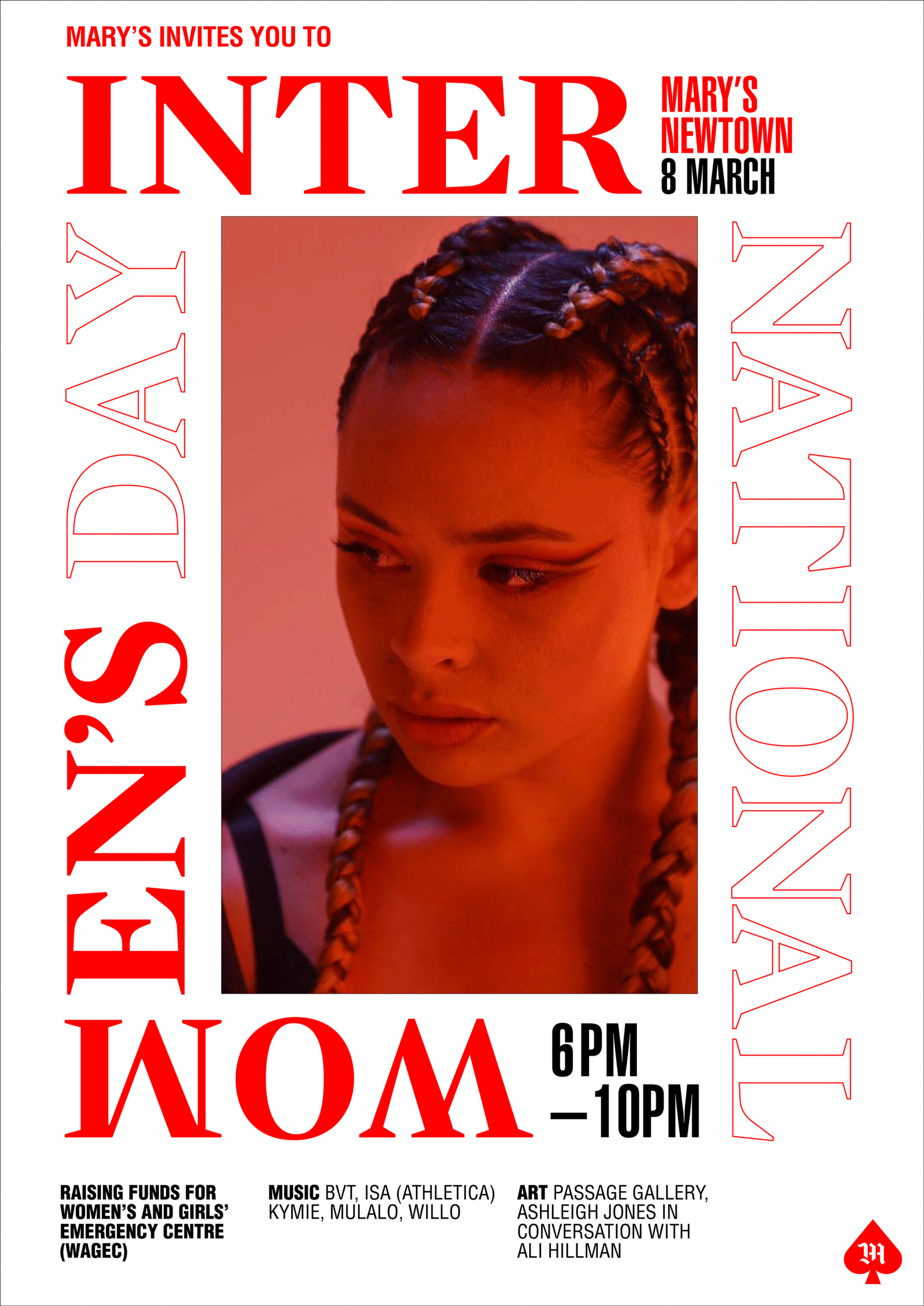 Zara June Williams
VAULTHOUSE, JANUARY 2023
Celebrating the talent of young Australian abstractionist Zara June Williams, Friday Trampoline will host a special showcase at Berrima Vault House January 21st.
Zara is a unique talent; she received the prestigious Lift Off Award when graduating from her Masters at the National Art School in 2018. Zara subsequently travelled to Leipzig, undertaking a residency post graduation and only recently returned to her native Australia from Paris last year.
She is currently preparing for her next solo exhibition at COMA in March 2023.
Tristan Chant
VAULTHOUSE, NOVEMBER 2022
Tristan Chant re-contextualises Dutch master paintings in his inimitable maximalist aesthetic, pulling imagery through audio software and various processes of digital collage. Bold and glitchy work contiguously adorns Vault House.
It was a pleasure to collaborate with James Kerr of Roberston gallery, Jennings Kerr in presenting this work.
Concord Art Prize
VOGUE AUSTRALIA JUNE 2022
'Australian art curator Ali Hillman pioneered the Concord Art Prize, which invites emerging artists to create works inspired by Concord Records's most famous acts, such as Pink Floyd.'
'Since returning to Australia with one suitcase in March 2020, art curator Ali Hillman has made it her prerogative to maximise time spent in nature. "I feel very lucky to be able to walk in the national parks and have access to the sea." Hillman has worked on some of the international art world's most cutting-edge projects – she developed public art programs in London and LA for Microsoft co-founder Paul G. Allen, and pioneered the Concord Art Prize. Now she's curating the art program at Vault House in the Southern Highlands of New South Wales. She's seen the ideals of the local arts scene shift and broaden since she left for London back in 2006. "We have so much to offer here, and possibly even because of the pandemic, we're thinking outside the traditional 'Paddington gallery' mould, notes the curator. "There's room for a multitude of artistic voices that represent varying experiences and viewpoints, especially First Nations artists."
Tamara Dean
DINER AT VAULTHOUSE
APRIL 14
Friday Trampoline is pleased to host dinner celebrating Tamara Dean's exhibition in collaboration with Vault House and Michael Reid Gallery. The artist will be present, joined by collectors and Vault House members in support of her work.
Tamara Dean is a critically acclaimed photo media artist working in photography, installation and moving image. Her practice explores our connection to nature and rites of passage in contemporary life. In each of Dean's photographs, her subjects quietly and intimately engage with their natural surroundings.
Dean's work is represented in high profile collections including the National Gallery of Australia, Parliament House Collection, Art Gallery of South Australia, Artbank Australia.
Curation
Sales
Event promotion
Mary's
WOMEN IN THE ARTS SERIES
Building on the success of the recent International Women's Day event, Friday trampoline is delighted to continue collaborating on a series of nights showcasing local female talent in visual arts and music. Celebrating female artistic talent, these events are ticketed with proceeds going toward Lou's Place, Sydney's only daytime refuge for women. Expect a cutting edge roll out of music and art coupled with Mary's delicious food and drink.
These artworks by Georgia Saxelby and Carmen Glynn Braun.
Curation
Sales
Event promotion
London St Pancras
HARRIET CLARE RICHARDSON
Eurostar currently supports an installation of Harriet Clare Richardson's photography in their St Pancras Premier Business lounge. This body of work highlights Eurostar's green credentials, referencing the beauty of nature in a suite of still life works depicting florals in motion.
The effect of capturing a sense of movement in the work mirrors the speed of travel, much like looking out a train window on your way from London to Paris.
Curation
Sales
Event promotion
André Hemer
BRUSSELS MIDI
André Hemer (b. 1981, New Zealand) is a painter whose work investigates the bounds of materiality and appearances, and what it means to create paintings during a time in history in which the experience of an object is continuously blurred between states of physical and digital experiences.
He has exhibited widely in New Zealand, Australia, USA and internationally.
Curation
Sales
Event promotion
Tim Maguire
VAULTHOUSE
Tim Maguire was born in the United Kingdom in 1958. He currently lives and works in Australia, France and the United Kingdom. In 1985 he studied at the Kunstakademie Düsseldorf, and prior to that studied painting at the National Art School, Sydney, and the City Art Institute, (UNSW) Sydney.
Since then he lived and worked in Paris and London, and currently divides his time between Sydney and South-West France. His exhibitions include solo shows at IKON Gallery, Birmingham, Chisenhale Gallery, London, Art Gallery of NSW, and Newcastle Art Gallery.
Curation
Sales
Event promotion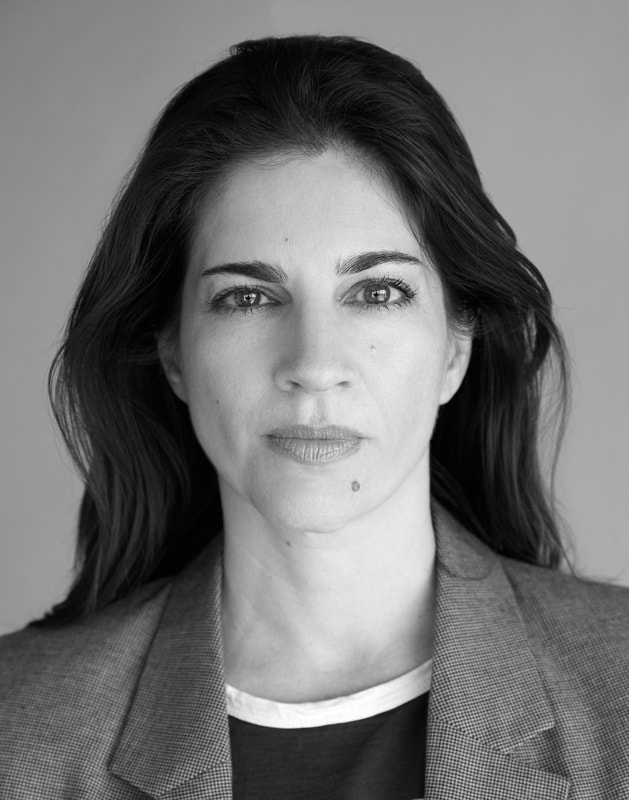 ALI HILLMAN
For more than twelve years Ali has been responsible for the public art programme at Microsoft founder Paul Allen's sites in London and Los Angeles. Producing six to eight public exhibitions each year, more than one hundred artist residencies and developing cultural strategy alongside institutions; including public museums, commercial galleries and leading art and design fairs.
After being tasked with the development of the art programme at h club, her engagement with contemporary art took off as she raised the club's profile and reputation within the arts community.
Recently Ali curated the inaugural Concord Art Prize, inviting UK based artists to make work inspired by music ranging from Mark Ronson to Stravinsky. The prize is a launchpad for creative talent that will continue to build for years to come. An exciting new addition to the contemporary art field.
Currently Ali curates rotating art programmes for Eurostar International and Vault House. Key influences in these programmes have always resonated from the talent. From its genesis, artists have inspired the programme and helped Ali shape the style and manner of each installation.
Hillman's curated exhibitions have been reviewed by The Guardian, Creative Review, Wallpaper Magazine, as well as BBC Breakfast and ITV News.
Previous collaborations include The Photographers Gallery, Royal Academy of Arts, London Design Museum, Photo London, Frieze Art Fair, London Design Festival, Royal College of Art.
Let's talk about your next project*
I live and work on the stolen lands of the Gadigal people of the Eora Nation and respect and acknowledge Elders past, present and emerging.
First image permission Andre Hemer